Why this feisty American Breed, the Catahoula Leopard Dog, is totally worth all the effort.
When we first moved to Italy – Palermo, Sicily to be exact – I knew I had to quickly learn how to talk about my dog in Italian. Everyone stopped me on the street to ask about him! So I jotted down this little blurb, memorized it and got real good at it, real quick!
Questo è Mucca! È una razza Americana – si chiama la  Catahoula! È una razza da caccia di cinghiali – ma non lui! Lui va a caccia solo di biscottini!!!  
Which roughly translates to "This is Mucca. He's an American breed called the Catahoula. It's a hunting breed for wild boars, but not him! He only hunts for treats!" Paired with my funny accent and the fact that "mucca" means "cow" – a female – in Italian (hey! It was a cute name while we were in the States!), it almost always got a laugh and was a great conversation starter.
How'd I end up with a Catahoula?
I've had three dogs in my life and all of them have been this fancy, schmancy pants pure bred dog – the Catahoula. Or more precisely, the Catahoula Leopard Dog, Louisiana Catahoula Leopard Dog, Catahoula Cur, or the down and dirty Catahoula hog dog.
Cat-a-HOO-la!
Literally meaning "sacred lake."
Whose fault is this? My husband's, clearly.
Josh lived in New Orleans (how we got Nola's name – New Orleans, LA – so clever, right?!!) for several years during and post-college and fell head over heels for Paunch. His super-companion, brown brindle bestie for over 14 years and yep, you guessed it, a Catahoula.
A Cata-what?
There are lots of things that make this breed unique. Here is a list of them:
Breed characteristics

Way high energy
Smarty-pants and often stubborn
Mildly territorial over home and family
Way territorial over snacks and that one stuffed hippo
Can be good with kids, or terrified, depending on who you ask, Mucca or Nola.
So damn good looking!
Fiercely loyal
Excellent swimmers
I get it. When I first met Josh (and Paunch!) the only way I could remember the name was to think of a cat in a grass skirt channeling her Hawaiian ancestors through a gentle sway of her hips to and fro.
Cata-History
It all goes back to olden times when the French (or Spanish, depending on which source you read first!) came to Louisiana and wanted a hunting cat to accompany them through the swampy wetlands of the south, but were too terribly allergic.
So they took their trusty Beauceron's and bred them with the local Native American's wolfdogs which resulted in what I can only imagine, the cutest cata-wolf-puppy dog of all time. Leaving by the wayside any risk of spooking unsuspecting prey away with a mighty sneeze from the brush, after mingling with too much cat dander.
Cat jokes aside, they got the name from Catahoula Parish, LA whose previous claim to fame was having the tallest mound in the state at 82ft (25m). Wow! Fascinating. (I got sidetracked to see what the heck these mounds were for and apparently they're really super ancient, earthworks built by indigenous people that were often used as burial grounds! Actually fascinating!)
Over time, the breed evolved into a herding dog, hungry for nipping at any nearby heel and a hunting dog that will instinctively work with it's pack to surround even the most ornery of wild boars. Thus explaining their love of ankle-socks and free-range bacon.
In the late 70's the governor of Louisiana, Edwin Edwards, named the Catahoula Leopard Dog as the official state dog. In the mid-90's the breed was officially recognized by both the United Kennel Club (UKC) and the American Kennel Club (AKC) in their Foundation Stock Services (FSS). FSS means they can compete in rally, obedience, agility and tracking. There's a hot debate on whether or not it's a good idea to get the full AKC registration, but I'll leave that up to the experts.
Cata-Handsome!
The neat thing about Catahoulas is that they look so damn unique. Characteristically, they typically have a ripped, muscular physique with square heads, floppy ears and a tapered muzzle. They also have webbed paws which make them excellent swimmers and swamp masters. Most notably, they have a fancy-ass posture that just won't quit. Perfect pet photography models, if I must say!
Their coats can come in a rainbow of color patterns from blue merle (Mucca), red merle (Nola), brindle (Paunch) as well as solids with little bits of other colors mixed in.
The best part is their eyes. They're known for having piercingly blue, aka "glass" eyes, that look directly into your soul evoking a strong urge to give them treats or go in for a belly rub. Sometimes they can be bicolor, like Mucca's brown and blue eye – "crack glass" eyes. They often come in brown and hazel too. And if you ever have to give them eyedrops at night, they will glow in a very spooky way that may induce nightmares, Children of the Corn style.
Have I cata-convinced you yet?
A Catahoula is for you if:

You hate finishing your last bite of anything

The real estate underneath your comforter is too spacious

You prefer working to the soft sound of crying for attention instead of that coffee shop chill beats playlist you just came across

You enjoy waking up to the alternating sound of juicy kisses and paws to the face for attention or to lift the blankets for them to burrow under again

You don't like peace and quiet, ever

The words "personal space" mean nothing to you

You enjoy spelling breed names to strangers in a foreign language while gently assuring them it's not a cross between an Australian shepherd or a husky

You are one of these famous people  with catahoulas,

Teddy Roosevelt, 26th president of the USofA, for hunting,

Sylvester Stallone, aka Rocky (incidentally Mucca's name on his birth certificate before we picked the much more classy "Mucca")  who got real mad at his wife for castrating his 'houla while he was away, and

Thomas Rhett, who's a country singer I've honestly never heard of before writing this.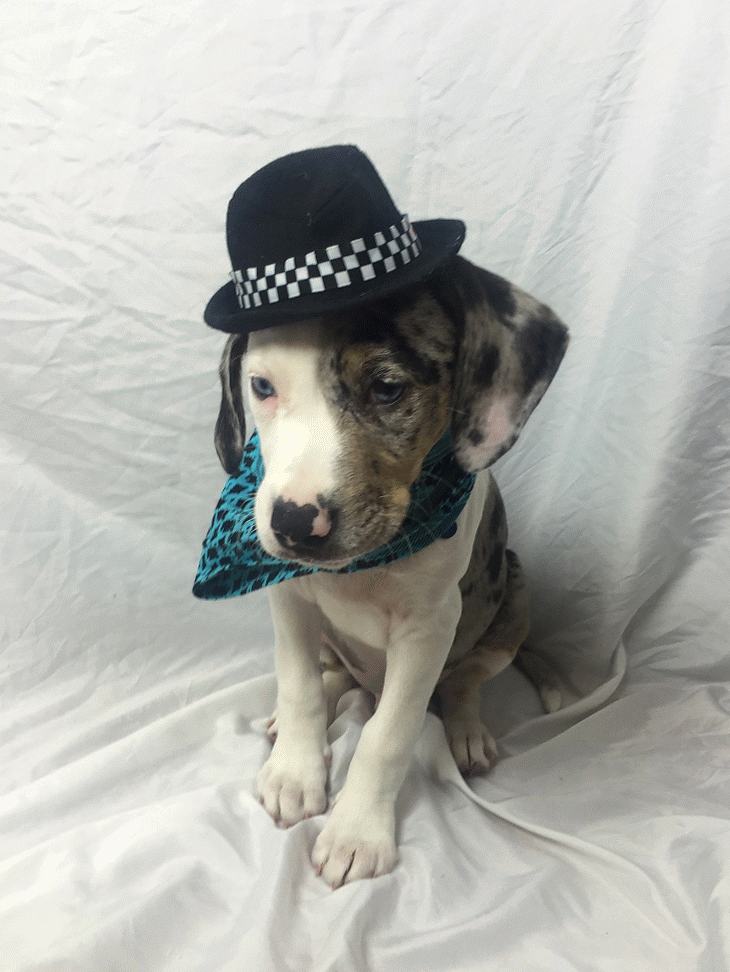 Work Them or They'll Work You!
This is most definitely a working breed. But we are living proof that they can be good pets too.
Our world happily revolves around our Catahoulas so, most of the time, it doesn't feel like a chore. Luckily, we have Parco Vittorio Formentano right across the street where we can pick from 5 enormous enclosed dog parks for them to burn off lots of energy. Throughout the day, every day, we're working on training – tricks and behavioral. And as long as the treats keep coming' they're happy to play along.
All in all, we've found a good rhythm to make our city, apartment lives work with this big handful of a breed.
Overall, they're fiercely loving dogs. Although they tend to have lots of sly tricks up their sleeves, and can have some majorly Stink Face moments, I love 'em and am super thankful for all the good they've brought to my life. Plus they're always a great way to invite small talk from the locals so I can work on my language skills!!!
And they make super, gorgeous, beautiful, perfect models for my photography!
Follow Mucca and Nola's personal Instagram page to keep up with our adventures inside and outside of the studio. And comment below and tell me about your favorite breed!