Why hire a Professional
Pet Photographer?
(When you have the Newest myPhone 52.0 with the latest and greatest camera ever?!)
No blurry shots!
That sparkly new phone will do you just fine on a nice partly-cloudy day outside. But now Fido is doing the cutest head-tilt at the squeaky call of his favorite dinosaur shaped toy, in a dimly lit living room, after sundown. And 18 shots of Fido-shaped blur later, I want you to know it's not you or that new phone. As a professional I've studied the craft of photography to set up the perfect stage to nail that shot for you. Plus add in RAW file editing flexibility and a pro designer's eye and BAM!!! FINE ASS ART staring your favorite pet(s).
Time's-a-Wastin'
One minute you find yourself in long sleeves and your ski pants even though it's mid-August. The new kitten, Fluffy, is just so cute you can't stay away despite her being so darn pointy and sharp with a seemingly strong taste for your blood! The next, breakfast seems to be more supplements and pills than it is soft tuna, to keep Fluffy comfortable in her senior years. The harsh truth is that our time is short together and so the best time to capture them is NOW. Whether they're a spunky adventure buddy, or a slowed-down couch cuddler.
Gallery-Quality Art
When people tell you that you have the cutest dog on the planet, they aren't wrong. And Rufus deserves to be commemorated in the highest-quality artwork around and not some one-hour photo shop print outs. Each piece of artwork you'll select with me has been hand-picked, scrutinized, and put through the "over-enthusiastic toddler, occasional blender mishap and smokey fumes of bacon gone wrong" test to make sure it will withstand your daily lifestyle. And all artwork is guaranteed to last – for life!
"Carol came in with lots of tricks and was very patient and sweet with my Bruno, who sucks at sitting still for more than 2 seconds! The photos turned out fantastic. She rocks!"
Denise | Bruno's Mom
"My Carol does such a fantastic Job taking pictures of her clients' cute animals! She's simply the best!"
Mom | Carol's Mom
"Carol was phenomenal. One of my cats is super grumpy and she got him to pose perfectly. The photos were absolutely adorable and she captured my pets' personalities 100%."
Joee | Cotton, Kashmere, Piper and Zero's Mom
"I was worried my guy Baxter would be a terrible model, seeing as he's got lots of energy. But Carol worked her magic and got some amazing shots of him! We had a lot of fun too!"
Kim | Baxter's Mom
Meet Your
Photographer
(aka Stylist and Treat-Dispenser)
Why pick me to create fine-ass wall art of your pet? If I'm being honest, pet photography isn't such a novel idea these days and more and more photographers are coming out of their respective kennels to photograph your dogs, cats and sometimes even pet chickens. But I can offer you top-notch photography with the added bonus of super-on-point design and style that will let you walk away with ART, people. Art of your best friends for any space that needs more of them, but with less drool spots and shedding.
Design Consultation
The first step is the planning session. We will meet, virtually or in person, and I will help you design and style the perfect photo session. We will discuss what your Bestie means to you and how we can turn that into custom, fine-ass artwork for you to proudly display in your home.
The Shoot
Am I a magician? Hardly! But this IS where the magic happens. I bring your vision to life by styling your pet to represent their best selves. We will have fun photographing each look while giving you and your Bestie a memorable experience in the studio. Treats 'n belly rubs included!
Ordering
The gallery is ready! Your photos have been lightly edited, and you will be led thorugh the customization process.  Here, you will select your favorites and be guided through the ordering process. Your home gallery will be carefully curated and your favorite photos will be chosen and packaged custom designed just for you!
Wall Art Enjoyment
Here comes the waterworks! Your artwork is ready for you to pick up. Even though they can't stay with us forever, your bond will be captured and they can continue to bring a smile to your face everyday,  just as much as their slobbery kisses do.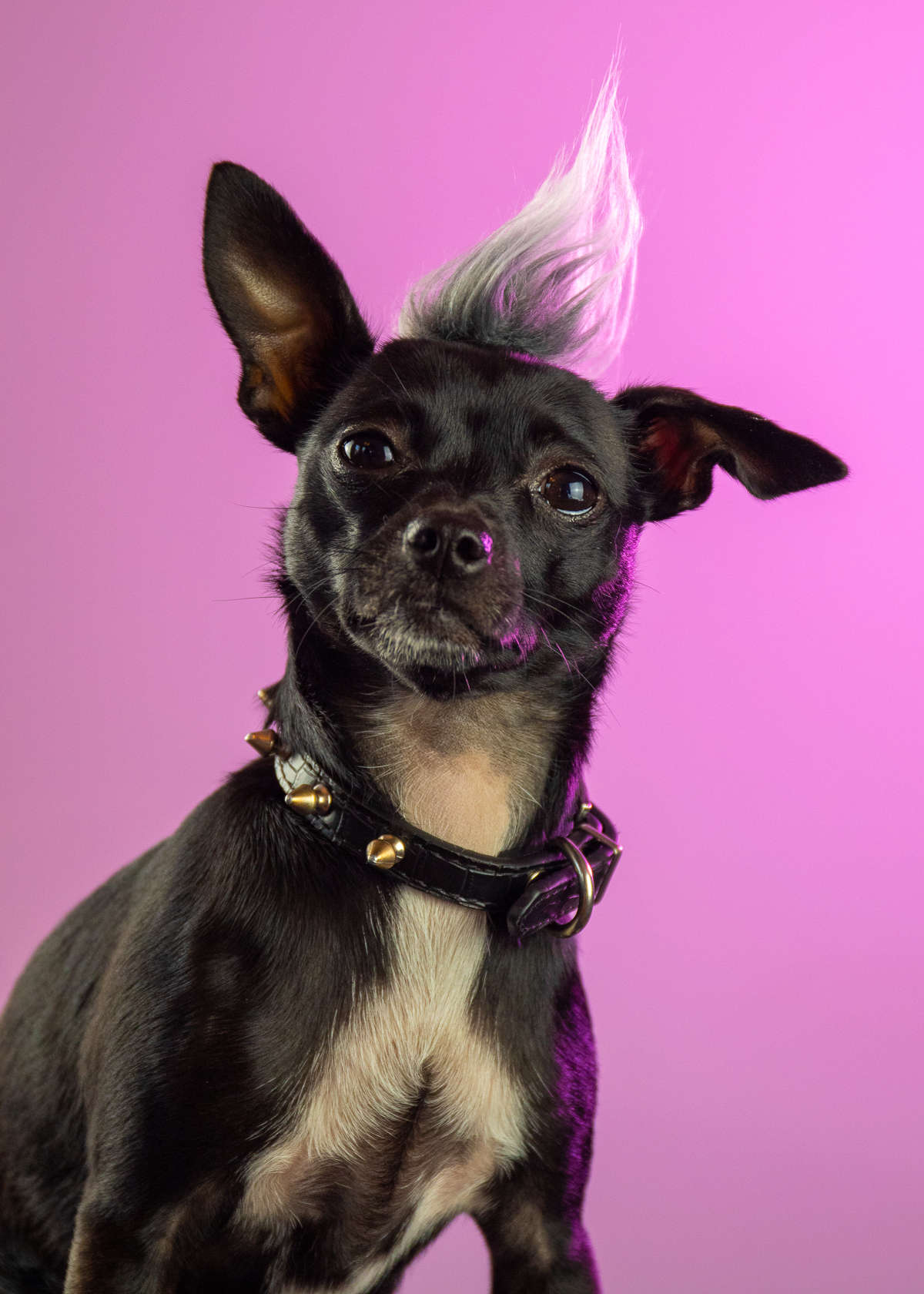 Have a question, comment, concern or funny joke?