all the details from start to Glossy Finish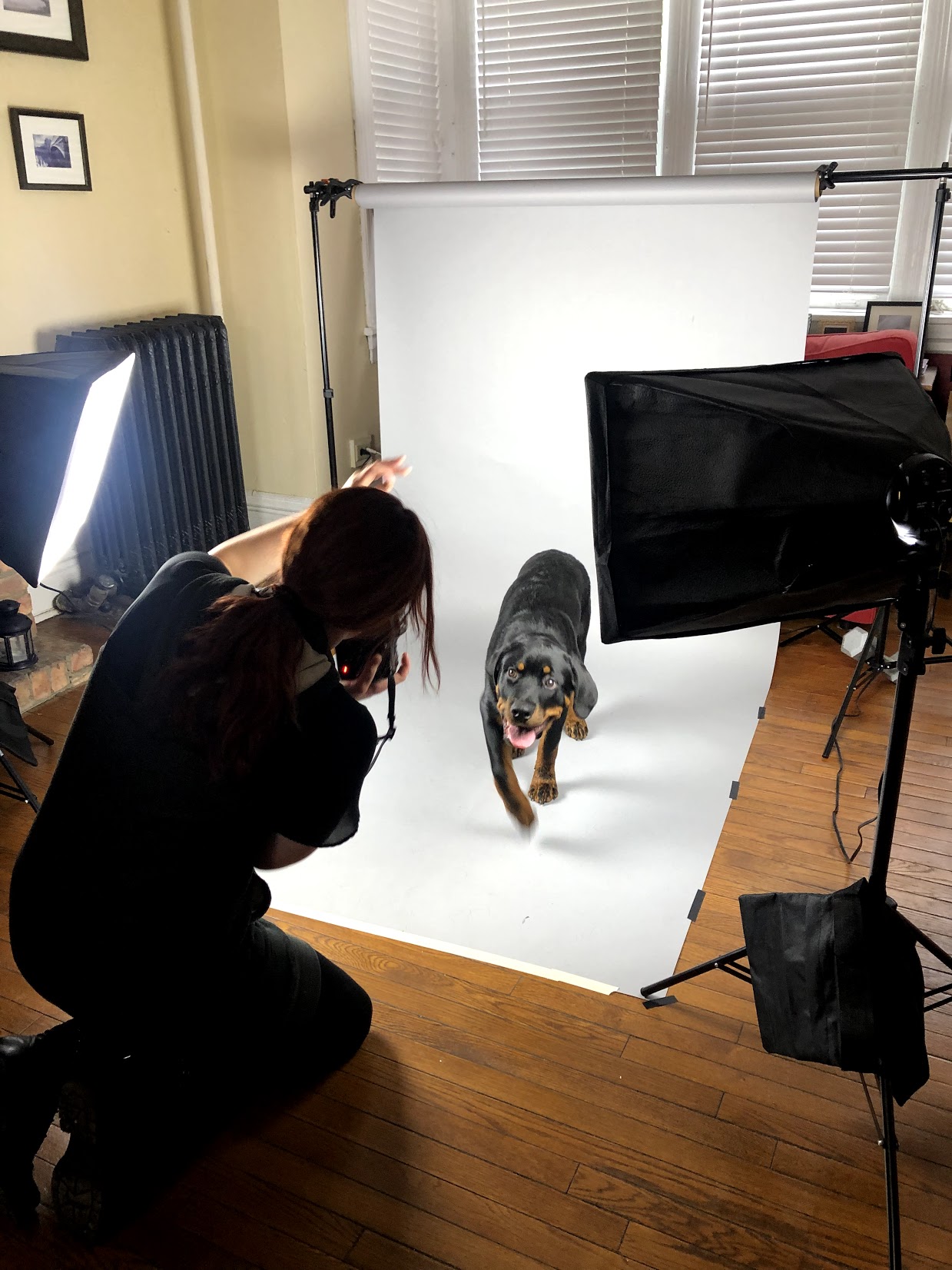 Step 1:
Book Your Session
€195 Session Fee Includes:
Style Planning Call
We plan a chat that's most convenient to you to talk all about your pet! I want to know what makes them tick and why they make your heart skip a beat when they greet you at the door. Do you already have a naked wall that needs some sparkle? Tell me! Here, I'll come up with a custom plan to style your photoshoot to exceed your wildest photoshoot dreams!
Custom Photoshoot
Is your pet grumpy until he gets his morning walk? Does she go absolutely bonkers when that "we only use this ball at the beach" ball comes out? Whatever your pet's personality is, I'll design an experience fit to represent them at their best, leaving you totally professional, fine-ass artwork that's as one-of-a-kind as they are. The looks will be styled and all you need to do is show up, let your pet be their quirky selves, and enjoy!
Curated Gallery and Ordering Call
I'll prepare a collection of all of the top photos from your session for you to view. These photos will be lightly edited to help you see what the final masterpiece will look like. I can even photoshop the artwork on your very own walls to take them from drab to DAZZLE!
€95 Product Credit
Once you book your session, €95, turns into a product credit. You may use this on any and all products that I offer, during your ordering session call.
You – And Your Walls – Totally Covered!
Step 2: Select Artwork
Fine-ass Wall Art
Packages starting at €1195
Actually, it's more like €1100 with your €95 product credit! These drool-worthy products are bundled together to help you get the most bang for your buck. Let's set up a call and I can walk you through the variety of products I have to offer.
Custom Planning
With my magical powers (eh hem… Photoshop…) I will show you exactly how that fab art will look on your walls. You simply send me an image of the wall you're thinking you want your pet to enhance and I'll drop the artwork in so you're 100% confident you'll love it!
Size, Material and Frame Options
– Starting at 20×30 cm
– Acrylic, Aluminum or Archival, Matted Print
– Traditional or Floating Frame
– Square or Round (Acrylics)
– Customizable matte border
– Ready to hang!
For the Influencers
Digital Collection
Collections Starting at €625
Or really, €530 after your €95 product credit. This collection of 5 digitals gives you the flexibility to use your photos in a variety of ways! The more photos you buy the more you save, so ask about digital packages!
High Resolution Files
These files come with a print release so you can print your own artwork up to 60cm on the long side. I get it, sometimes digitals are the way to go in this modern world. Especially if you're the digital nomad type!
The Bonuses!
Collection Upgrades
Purchase €695+ and gain access!
A la carte menu is available if the package bundles I offer aren't right for you. Once you hit €695 you gain access to my gift collection – small add-on's that are sure to make any grandparent or aunt and uncle swoon for any special occasion!
Gift Add-ons!
Product purchases are structered in a way once you hit certain spending points, you unlock amazing deals for some super popular items like a desktop trifold or a shiny acrylic block. They make great gifts for your Bestie's special friends, or grandparents!